On its international day against internet censorship on Thursday March 12, the Reporters Without Borders (RSF) association launched an accessible virtual library in Minecraft, to provide players in certain countries with online censorship with access to items that would otherwise be beyond their reach. The project is presented on a dedicated site – UncensoredLibrary.com, the "Free Library" in French.
This virtual library is "Filled with books containing censored items" in some countries, says the association. Journalists' writings "Banned, imprisoned, exiled, even killed" from five countries – Egypt, Mexico, Saudi Arabia, Russia, Vietnam – can be read by players from Minecraft.
"In those countries where websites, blogs and the free press are strictly limited, Minecraft is still accessible to everyone ", says RSF, which wants to take advantage of the possibilities offered by the famous virtual construction game to circumvent censorship. "Minecraft books are 100 pages long and we can write about them freely. [Les] players have the right to read them, but not the right to change their content on the server ", specifies the association.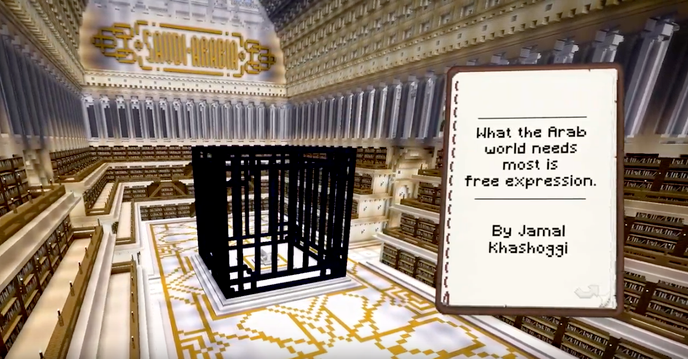 The project notably received the support of Hatice Cengiz, the fiancée of the Saudi journalist Jamal Khashoggi, murdered in Turkey in 2018. Minecraft, which celebrated its tenth anniversary in May 2019, remains one of the most popular games in the world. It gathered nearly 112 million players every month, according to figures released last October.
12.5 million blocks
Concretely, the construction of the Free Library "Lasted three months", and was produced by BlockWorks studio. She is "Made up of more than 12.5 million blocks. (…) Its design and creation required more than 250 hours of work from 24 manufacturers from 16 countries. The main dome of the building is almost 300 meters wide, making it the second largest in the world ", according to Reporters Without Borders.
The players of Minecraft can access this "Free Library" either directly on the server visit.uncensoredlibrary.com, accessible by direct connection on the versions of Minecraft higher than 1.14.4, either by downloading the "Uncensored Library Minecraft Map" directly from the dedicated site.