In late January 2010, Steve Jobs unveiled the very first iPad model to be released a few months later. Some tablets do exist at the time, but their sales are confidential. But the iPad is profoundly different. It works much better with your fingers, and its software is incomparably simpler; it's the iPhone (iOS) and its clarity is a revelation for both users and competing brands, who will be inspired by it a lot.
On stage, on the day of the press conference, Apple's CEO presented the iPad as a third device that will find its place between the computer and the smartphone. And ten years later, we have to admit that this prediction was correct. According to figures from Credoc (Center for Research for the Study and Observation of Living Conditions), 42% of the French have a touch pad – Apple or other.
"Very useful" equipment
And contrary to a tenacious idea, tablets are not losing momentum, as the authors of the Credoc Digital Barometer explain:
The rate of equipment is stagnating, but daily use does not weaken (45% in 2017, 47% this year) and the utility felt does not change either between 2017 and 2019 (62% of daily users judge this equipment " very useful").
In a call for testimonials that we launched to understand these uses of the tablet, to which nearly 700 people responded, aged 16 to 87, some went straight to the declaration of love: "I bless this tool", "It is the extension of my arm", "It is my cuddly toy, my friend, my playground, my communication manager"… And also evoke simplicity, relaxation, comfort, like Anne, retired:
"I was just waiting for that, Phew! Finally ! Sit comfortably in your chair, and change rooms according to family exchanges, come and go. No static position imposed in front of a desk, no wires, no mice…! Awesome. "
A lost fight against the computer?
Others are more critical, some readers having abandoned their tablet in recent years for a large screen smartphone: "It is gradually taking dust. " But this destiny remains a minority according to the people who answered our questionnaire. Some even evoke a reverse experience: "I prefer the tablet because it is larger and more pleasant than my smartphone, which is more recent", testifies Ewen, high school student.
These touchscreens have established themselves, but they have not taken over the computers as Steve Jobs envisioned. In an interview granted in mid-2010, the Apple boss compares their likely destiny to that of cars in the United States:
"We were originally an agrarian nation, and all the vehicles were trucks, because that was what we needed on the farm. But when they started to be used in cities, cars became popular. (…). The PCs will suffer the fate of the trucks. They will stay with us, they will remain very useful, but they will be used by one in ten people. "
Ten years later, the computer remains much more popular than the tablet; however, there is a declining trend, with the rate of French equipment having dropped by 7% since 2013. The tablet, on the other hand, seems to have reached a plateau in the past two years.
In fact, few readers of the World who say they have completely abandoned their computer in favor of their tablet. More people have never owned a computer, like Elizabeth, retired: "I am 64 years old. I have an allergy to anything computer related. However, a tablet was offered to me eight years ago and it never leaves me! "
Leisure machine
For what uses are these touch screens used? The most dominant, according to testimonies sent to World – the Internet searches and viewing videos, cited by half of the respondents – are among those Steve Jobs presented ten years ago. Games, books, checking emails, listening to music are less apparent in the texts sent.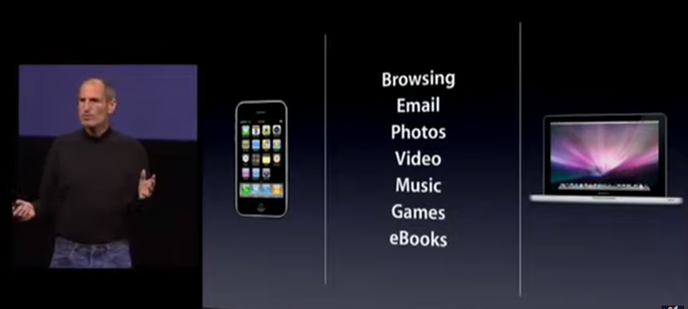 What about work and creative tasks? In his first public presentation of 2010, the Apple boss seemed to believe much less in these uses: office suite and drawing software intended for iPad are only presented at the end of his speech. Steve Jobs avoids claiming that tablets are much better for these professional uses, as he claims for the Internet or video. In his interview given in mid-2010, he indicated however that he saw some potential in the touch pad for "Create many types of content".
A few rare readers say, in 2020, having managed to switch their professional activity entirely to the iPad. Some see it as an incomparable creative note-taking tool: "The MacBook is to structure, write presentations, format my thinking. But the iPad is for thinking ", testifies Benoît, consultant. More numerous are those who recount their negative experience in terms of office automation.
Some unsuspected uses
As for artistic creation, it seems to remain marginal, even if some readers take advantage of the great progress of the iPad, now equipped with a stylus, and the advances in creative applications for drawing or making music.
Some unsuspected uses appear: "We switched to tablet scores for recording to avoid the noise of turned pages" or "I removed 7 kg of needle dials from my aircraft dashboard. I put an iPad down instead. "
However, for professional use, the software in the very rich catalog of applications for iPad (much more numerous than those provided for Android tablets) is not as complete as their counterpart for computer. The mouse and the big screen still allow, in 2020, a finer work.